Peer Advisors for Veteran Education, or P.A.V.E., is a program that pairs incoming student veterans with trained current student veterans to help the new students successfully navigate the transition to college.
P.A.V.E. helps student vets find their way around the university, identifying resources both on and off campus. And because student veterans understand the military experience, they can help identify and assist in challenges student veterans face and provide ongoing support as they adjust to the university.
Your 2020/2021 PAVE Peer Advisors
Lydia Pinkham, lpinkham@umich.edu
I'm a current senior, graduating in December 2020 with a major in Earth & Environmental Sciences (Geology) and a minor in Biological Anthropology, and I transferred to UM in Winter 2018. I started my bachelor's while I was active duty in the Coast Guard, where I served as a first responder, a law enforcement officer, a machinery technician, and a tactical crew member. I was stationed in Seattle, the Bering Sea, the eastern Pacific, Virginia, and Florida. Now I serve as a PAVE advisor for our Peer Advisors program, as well as the Vice President of the Student Veterans of America at UM, a student organization of veterans and military-connected students. I love being a resource for other students and helping them transition to college life, as my PAVE advisor did for me. When I'm not working on schoolwork, you can find me reading, knitting, chilling outside, or organizing my rock collection.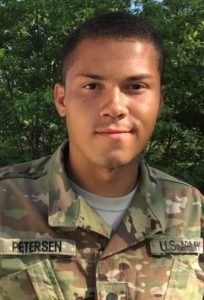 Dominic Petersen, dompeter@umich.edu
Hello! I've been in the National Guard for over four years now. Serving my first two years in the infantry before contracting into ROTC and transferring to a Field Artillery Forward Support Company. I plan to commission as a Logistics Officer and move down South or out West after BOLC. Being a Sport Management major, I'm involved in the VIP Internship program where I work in the fan experience department of a multitude of University sports. As a first generation college student hours away from home, I faced a number of challenges adapting to the rigorous academics, finding affordable housing, and learning campus. I overcame these obstacles with helping hands across the University of Michigan community and want to give back, exactly why I joined PAVE. If you want to learn more about me or have any questions, feel free to contact me!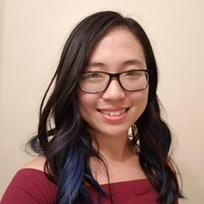 Melanie Chen, mechen@umich.edu
Hi, my name is Melanie and I'm a junior at the University of Michigan, majoring in neuroscience with a biochemistry minor. Prior to college, I served at 5th Special Forces Group (Airborne) as an intelligence sergeant (35F) and deployed to Incirlik, Turkey in support of CJSOTF-S. Because of my service, I have a painful disability that fuels my drive to learn about nociception (pain) and its mechanisms. It's also why I decided to join PAVE! I want to find and help people like me who may struggle with going back to school because of the changes the military makes on us. U of M has a fantastic neuro program, but it also has many opportunities like research and student organizations for almost everything. I joined the Cognitive Science Community and Neuroscience Club to meet with other like-minded students, but I am also part of United2Heal, a non-profit organization that donates excess medical supplies to countries in need, and attend Japanese culture events like the Kaiwa Table and Sushi Night for fun with friends. In my free time, I enjoy playing PC and Switch games with my husband and two adorably fat cats. I also love baking, and some of my favorite things to bake are pies and rustic breads. 
P.A.V.E. @ Michigan is a collaboration between the P.A.V.E program (administered by the University of Michigan Depression Center) and the Veteran and Military Services Program. To learn more about available services for military veterans, please visit the Depression Center's website.