Peer Advisors for Veteran Education, or PAVE, is a program that pairs incoming veteran and military students with trained current students who have also served. PAVE helps military-connected students find their way around the university, identifying resources both on and off campus. And because our PAVE peer advisors understand the military experience, they can help identify and assist in challenges these new students face and provide ongoing support as they adjust to the university.
Your 2023/2024 PAVE Peer Advisors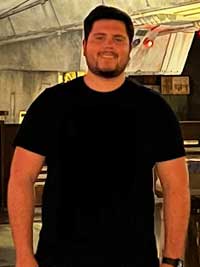 Fernando Bejar
Hello! My name is Fernando Bejar and I am a sophomore majoring in aerospace engineering through the College of Engineering with a minor in entrepreneurship through the College of Literature, Science, and the Arts. I served the United States Army as an M1 Abrams Tank and Stryker systems maintainer in the 2nd Infantry Division at Joint Base Lewis-McChord, Washington.
As I was transitioning from my military to educational career, finding the right resources was a very overwhelming task to do. Being able to reach the PAVE program made my life as a student so much easier than expected. Doing the same thing for other incoming veterans and military students is something that I am really passionate about, which is why I decided to become a PAVE advisor. 
Something that I am involved in on campus, I am participating in the Michigan Aeronautical Science Association (MASA) which is a multidisciplinary approach to engineering, bringing students together to design, build, and launch pioneering liquid-fueled rockets. I primarily work on the propulsion systems of the rockets that we build at the University of Michigan where I make sure that it's properly functioning before, during, and after launch. During my free time outside of school, I like to travel to new places around the world where I get the opportunity to learn about different cultures.
If you have any questions, please do not hesitate to contact me! My email is fbejar@umich.edu in case you need it. GO BLUE!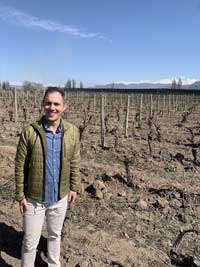 Jordan Hester
Hello! My name is Jordan Hester. I'm a first-year student in the MBA program at the Ross School of Business. After earning a degree in chemistry at the University of Florida, I was a submarine officer in the Navy. I've also been an Naval Reserve Officers Training Corps (NROTC) instructor at the University of California, Los Angeles (UCLA) and a high school math teacher.
I'm excited to help student veterans navigate life and academics at the University of Michigan. Outside of class, I'm on the board of four student organizations at Ross. I'm passionate about physical fitness. I also enjoy attending games at the Big House in the fall. Go Blue!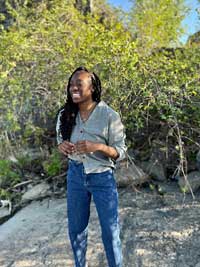 Olubukola Akinambi
Hello! My name is Olubukola and I am a sophomore studying cognitive science. I served as a geospatial engineer in the Army at Fort Drum, New York. After my transition, I felt disconnected from the network I built during active duty, my friends, and the feeling of belonging. My first night at a PAVE game night, allowed me to interact with people who were currently in my shoes and had been in my shoes. We exchanged stories of our previous profession and what the transition has been like from military life to college life. We also made connections and invited each other to other events outside of PAVE. I decided to become a peer advisor to assure other people that they belong here and help them make the best of their experience here at U-M.
In my free time I like to exercise and explore the local bookstores and vintage shops.
Feel free to contact me about transitioning, navigating the university, or the program!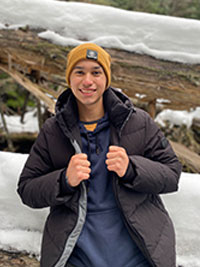 Arjan Goenaga Castillo
Hello, my name is Arjan and I am a junior studying biochemistry. I served in the army as a chemical specialist and was stationed in Fort Lewis, Washington, and South Korea. During my transition, I was surprised at how easily one could get overwhelmed with academics. Knowing some resources or having someone to be able to ask questions of can be helpful. I decided to participate in the PAVE program to be able to help people feel a little bit more comfortable with the daunting new things one might have to learn about being a college student.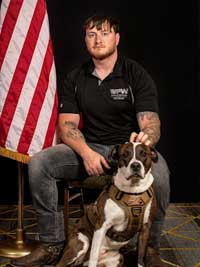 Devin Daniels
My name is Devin Daniels and I am currently a junior studying biopsychology, cognition, and neuroscience (BCN) and scheduled to graduate by 2025. I am a US Army combat veteran, served with 82nd Airborne Division as a paratrooper, and got out in 2016. After leaving the service I earned an associates in applied science and graphic designing.
My goal as a PAVE advisor is to provide a smooth transition for Veterans and military members exiting the service and going into higher education. U-M is a big school and can be intimidating at first but we will get you squared away!
In my free time I enjoy longboarding, snowboarding, playing guitar, hiking, disc golfing, kayaking, being a Dungeons & Dragons master, video gaming, and oil painting. I love drawing and making comics and I'm a tattoo artist and generally love making art. I am also a gearhead and motorcyclist. I also am actively serving as The State Historian for the VFW post 423.
---
PAVE @ Michigan is a collaboration between the PAVE program (administered by the University of Michigan Depression Center) and the Veteran and Military Services Program. To learn more about available services for veterans, military members, and their families, please visit the Eisenberg Family Depressions Center's College Mental Health webpage.