Peer Advisors for Veteran Education, or PAVE, is a program that pairs incoming veteran and military students with trained current students who have also served. PAVE helps military-connected students find their way around the university, identifying resources both on and off campus. And because our PAVE peer advisors understand the military experience, they can help identify and assist in challenges these new students face and provide ongoing support as they adjust to the university.
Your 2021/2022 PAVE Peer Advisors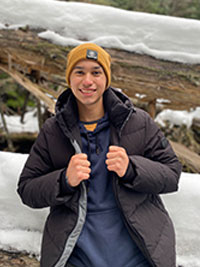 Arjan Goenaga Castillo
Hello, my name is Arjan and I am a junior studying biochemistry. I served in the army as a chemical specialist, and was stationed in Fort Lewis, Washington, and South Korea. During my transition, I was surprised at how easily one could get overwhelmed with academics. Knowing some resources or having someone to be able to ask questions of can be helpful. I decided to participate in the Peer Advisors for Veteran Education (PAVE) program to be able to help people feel a little bit more comfortable with the daunting new things one might have to learn about being a college student.
I personally like to play PC games and watch anime in my free time. If you ever feel like you need a little help getting situated at the university, feel free to contact me.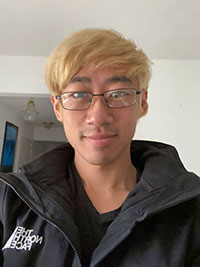 Richard Lin
Hello! I'm Richard and I'm a junior studying computer science through LSA. I served as a chemical, biological, radiological, and nuclear defense specialist marine in Okinawa for two years and finished up my contract in Camp Pendleton, California. Because I was out of school for four years along with cultural differences while being in the military compared to out, transitioning from military life to college life was quite interesting. That's what led me to be a PAVE advisor! The others in PAVE made me realize that I was not alone in this transition, and allowed me to connect with people that are facing similar experiences.
In my free time, I like to exercise, play video games, and watch anime. If you have any questions about the program, university, transitioning, or anything, feel free to contact me!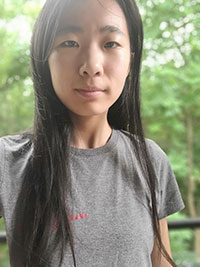 Nuobei Zhang
Hello, my name is Nuobei and I am a junior studying data science. I served as a chemical, biological, radiological, and nuclear specialist in the Army at 110th Battalion, Fort Lewis, Washington. During my transition, I received lots of guidance and assistance from the Warrior-Scholar Program, especially with my application essays. I truly appreciated the help I received and was determined to give back to our student-veteran community.
In my free time, I love hiking and exploring new places. One of my life goals is to visit all the national parks in the U.S. I also enjoy playing mobile and Switch games. Beside school work, I am also learning option trading and Spanish, and am working part-time as a mathematics and Chinese tutor.
Last but not least, feel free to contact me and ask me anything from school-related matters to local festivals or events.
---
PAVE @ Michigan is a collaboration between the PAVE program (administered by the University of Michigan Depression Center) and the Veteran and Military Services Program. To learn more about available services for veterans, military members, and their families, please visit the Eisenberg Family Depressions Center's College Mental Health webpage.